Teslin or Textilene is shuttleless machine production of specialty textiles, using a special composite yarn clad structure, namely PVC / PET sheath-core yarn. Mining core strength polyester industrial filament, for anti-aging skin, polyvinyl chloride PVC material UV radiation. Polyester filament extension wrap by pulling a light cooling to form a smooth surface, waterproof, anti-oil, non-toxic, cool sense of complex lines. Intelligent warp yarn warping mechanism by weaving into the shaft, no sizing, direct winding of the rapier woven mesh, and then finishing the final products. Has not faded colorful, high-strength tensile, water and oil UV protection, anti-aging, wear resistance, rot resistance, chemical resistance, non-toxic, smooth and cool, long life and other advantages. The perfect combination of the two materials make Teslin outstanding products, so widely used in outdoor furniture, pvc table mat, beach chairs, shades and more!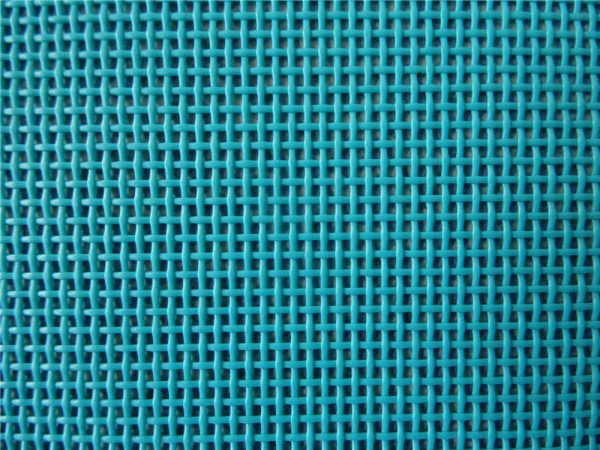 Textilene mesh is made of polyester yarns individually PVC coated, woven and heat set to become durable and long lasting textilene fabrics. Textilene, also known as Teslin, is ideal for awnings, sunscreens, umbrellas, cushions, fencing and other applications that require high tensile strength, breathability and flame resistance.Available in a variety of colors, Petter Textilene are mildew and rot resistant, colorfast, and are very easy to clean and dry quickly. Mesh Fabrics are 61″ wide in common.
Textilene mesh fabrics show good flame retardant properties also and can be safely used, textilene products are tough and suitable for a range of weathers.
Textilene or teslin fabrics can be made into different pads, mats, cushions or other products. Foldable chair seat pad is one of our main products. It is made of teslin fabric and processed by high-frequency heat-fusion crafts.
The features of our textilene products are as follows:
1) Fabric: Textilene or Teslin (one kind of mesh fabric utilizing a mildew resistant polyvinyl coating that provides years of using in the harshest sun light and the most extreme winter )
2) Pattern: various available like 1*1, 2*1, 2*2 and so on
3) Specification: any sizes available as requested
4) Different colors or blended available
6) Applications: Outdoor furniture such as beach chair, leisure chair, lounge, sun bed and other fields
Advantages:
1) High strength
2) Waterproof,UV-proof,oil-proof
3) Abrasive resistant
4) Bright color and others
5) Durable
6) Comfortable